News
40. Reas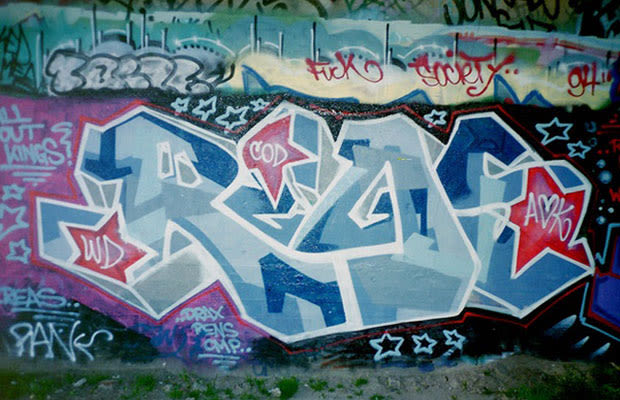 Neighborhood: Manhattan
Years Active: 1980-present
Reas began writing in the early '80s and was going strong by 1985. He was highly respected as a character man as well as a stylist. In the late '80s he loosened his style up a little bit as he began hitting clean cars with Ven. He continues to paint around the world.
39. Crash and Daze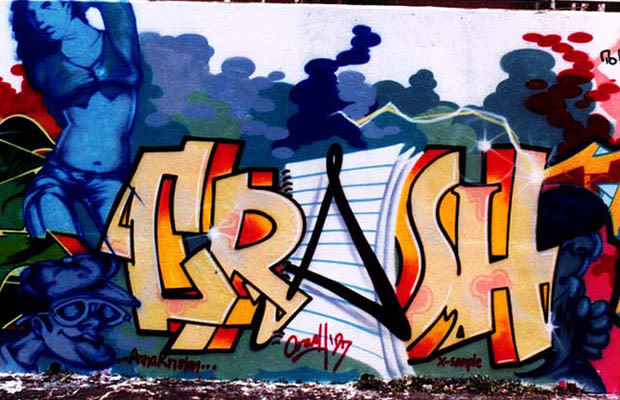 Alias: Chill 2
Neighborhood: The Bronx/Manhattan
Years Active: 1977-present
Crash and Daze were two great writers, famous for both style and characters. They make this list for being the first two writers to live the lives of professional artists - making money exclusively from their canvasses. It seems everybody has a chance to do it today, but back in 1980 when they began their gallery careers, the odds were stacked heavily against them.
38. Mitch 77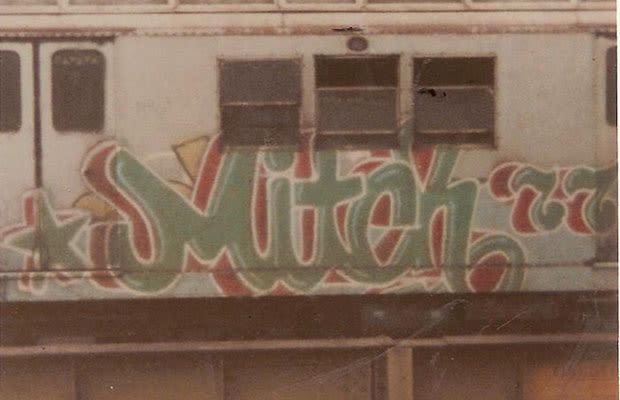 Neighborhood: The Bronx
Years Active: 1975-1980
Mitch 77 was the total package on the 4 line in the late '70s, crushing trains with burners and whole-cars and even the occasional throw-up.
37. Ghost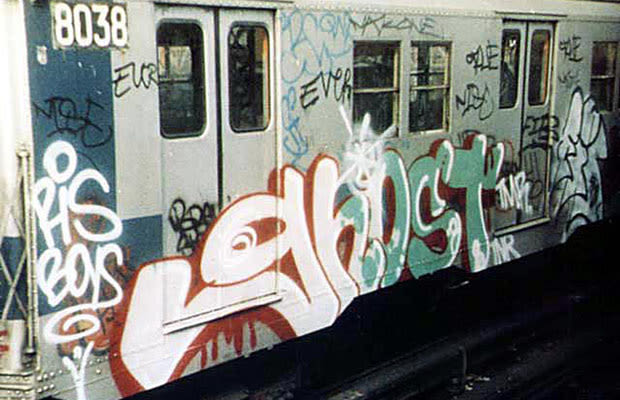 Alias: Six-Pack
Neighborhood: Queens
Years Active: 1980-present
There are so many iconoclasts that didn't make this list, like Lsd-Om and Futura 2000, that it's nice to have someone on here who broke all the rules, which is what Ghost did. From 1980 to 1986 he painted in the style of the RTW writers, at the same time he was warring with them. After a quick break, he regrouped and threw out the style handbook. His pieces from 1987 to 1989 were sprawled across trains like an octopus thrashing about. From a strict composition point of view, they made no sense, but they worked. His throw-ups were just as radical, usually done sideways or upside down; they gave the illusion that they were flying by in the breeze. He continued to paint during the clean train movement and today paints globally.
36. T-Kid 170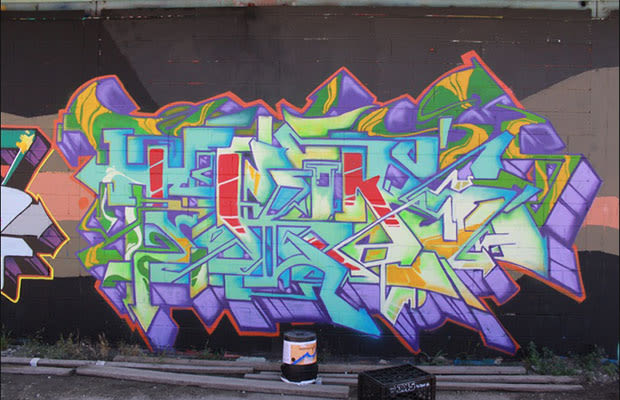 Neighborhood: The Bronx
Years Active: 1977-present
T-Kid 170 is probably the last writer in the lineage of the TDS, TFP, and IND's stylemasters. He learned from such masters as Tracy 168 and Padre Dos in the 1970s and started evolving into his own style in the '80s. His ability to draw helped him immensely when he started competing with European writers through the '90s. He continues to paint around the world.
35. Doc TC5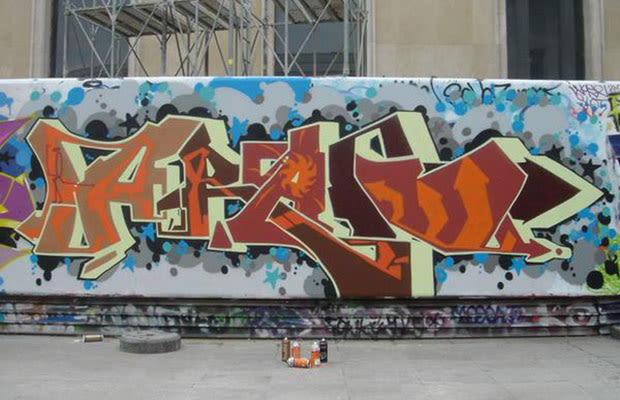 Aliases: Arab, Bagel
Neighborhood: Brooklyn
Years Active: 1980-present
If you ever wondered what would've happened if Dondi had continued to paint into the 1980s, you need look no further. Doc was a stylemaster in the mold of Dondi and rarely wasted his time with anything else. When the subway movement ended in 1989, Doc continued to paint walls, where he's still a major presence.
34. Doze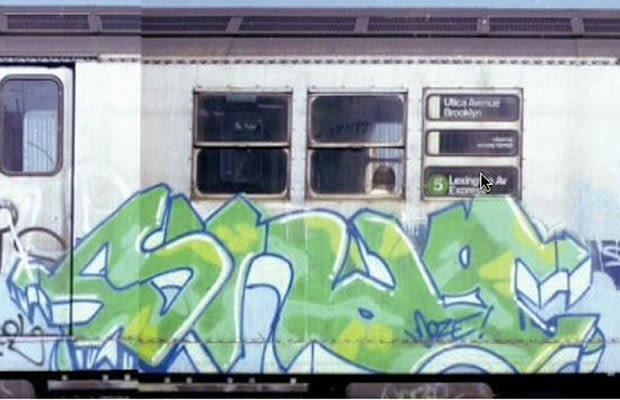 Neighborhood: Manhattan
Years Active: 1979-1986
While not the most prolific writer on the trains, his influence in the graff community was deep. Doze was one of the major writers from Art and Design High School, where he handed out styles to anyone that asked. He's credited with inventing the Mugsy character, an iconic figure on the Broadway line.
33. Zephyr and Revolt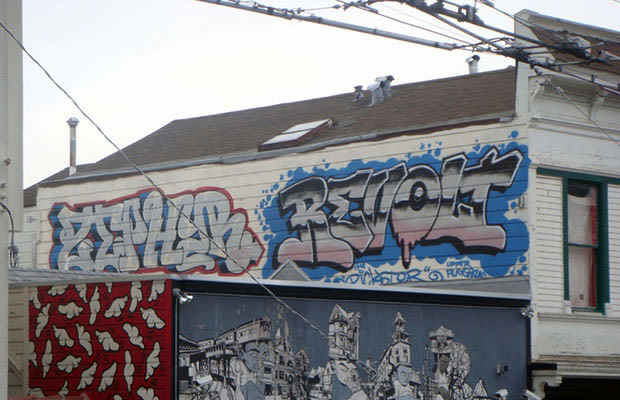 Aliases: Gold, Heist, Chi 193
Neighborhood: Manhattan
Years Active: 1977-1985
Zephyr and Revolt were two writers that emerged from the Bandshell scene of the '70s. They were writing partners that complimented each other well. While Zephyr was probably stronger in style, Revolt was a master at characters. When they finished on the trains, the two writers continued painting illegally and helped jumpstart the freight train movement.
32. Min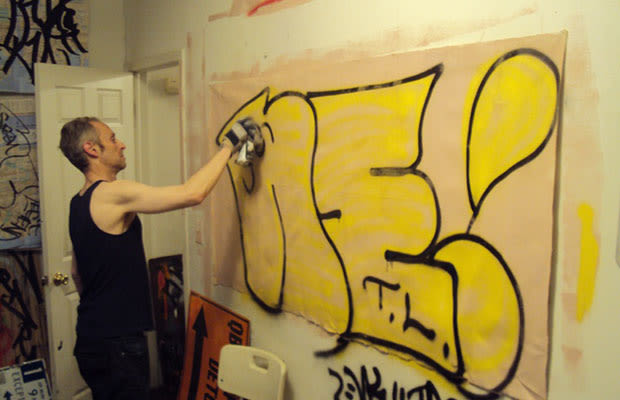 eighborhood: Manhattan
Years Active: 1977-1985
Min has been dubbed the unlikliest king of the city. When he started writing in 1977, he was so short that he took the name Miniature - Min for short. He learned at the hands of legendary RTW founder Bilrock, and when Bil quit the scene in 1980 (the only reason he's not on this list), he gave the crew to Min. Min did throw-ups on almost every line, and with Kel, he did a series of wildstyle top to bottoms from 1983-1985. He was finished by 1986.
31. Haze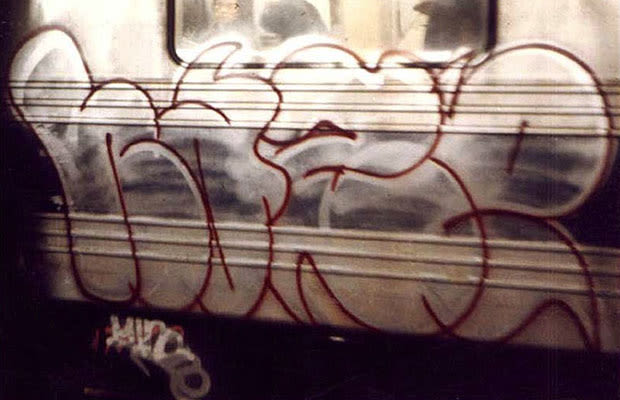 Alias: Se-3
Neighborhood: Manhattan
Years Active: 1973-1984
Haze was definitely not the biggest bomber on this list, but it doesn't matter; his throw-ups were a work of beauty. His Se-3 is considered the gold standard for a throw-up. He's also responsible for bringing color to the throw-up which were usually done in bright silver.
Create a Graffsociety gallery to enjoy our regular valuable prize battles, tips, resources, and get your artworks viewed by thousands of people around the world!